Tailored treatments for a Natural Look
We aim to enhance people's self-esteem and confidence through a series of treatments to enhance or restore your natural youthful look. – Dr Judy Craig
Natural Looks is a friendly results-driven professional medical cosmetic clinic. We believe in educating our clients and jointly deciding a plan to achieve long-lasting results.
We offer top quality treatments including natural therapies, botanical only, vegan, gluten free, cruelty free and pregnancy safe options.
At Natural Looks we make your health and safety a top priority and have installed hospital grade air purifiers and ionizers in the clinic.
Our Covid-safe practices
admin
2022-04-01T03:38:34+00:00
Clinic is fitted with hospital grade air purifiers and ionizers.

 

All staff are fully vaccinated

 

Masks – Treating staff will wear N95 masks for your added protection – Clients to wear masks until instructed to remove them for treatment

 

Valid vaccine certificate required to enter the clinic

 

Covid questionnaire to be completed prior to appointment

 

Temperature check on arrival

 

Only person booked for the appointment may attend unless exemption obtained

 

Thorough cleaning performed after each client

 

Staggering of appointments and additional time allowed for cleaning

 

Skin care can be purchased online and delivered or collected through our click and collect system

 

Home skin treatment programs and dermal therapist consultation available for anyone unable to attend the clinic.

 
EMSCULPT NEO is the first and only non-invasive body shaping procedure that uses Radiofrequency heating for fat reduction, skin tightening and enhancement of the High intensity focused electromagnetic energy (HIFEM®) for muscle strengthening and toning in a 30-minute session. 
One 30 minute treatment is equivalent to 20,000 sit ups due to hyper-contractions only achievable by bypassing the brain's limitations.  
It is not a painful procedure and there is no pain or stiffness the following day due to the device intermittently removing lactic acid. This prevents the build-up that occurs with exercise and the subsequent stiffness and pain. 
 7 Clinical studies have shown, on average a 30% reduction in fat, 25% increase in muscle and 19% improvement in abdominal muscle separation. There have been 30 clinical papers published. 
This level of research makes it the most researched technology of all body sculpting devices.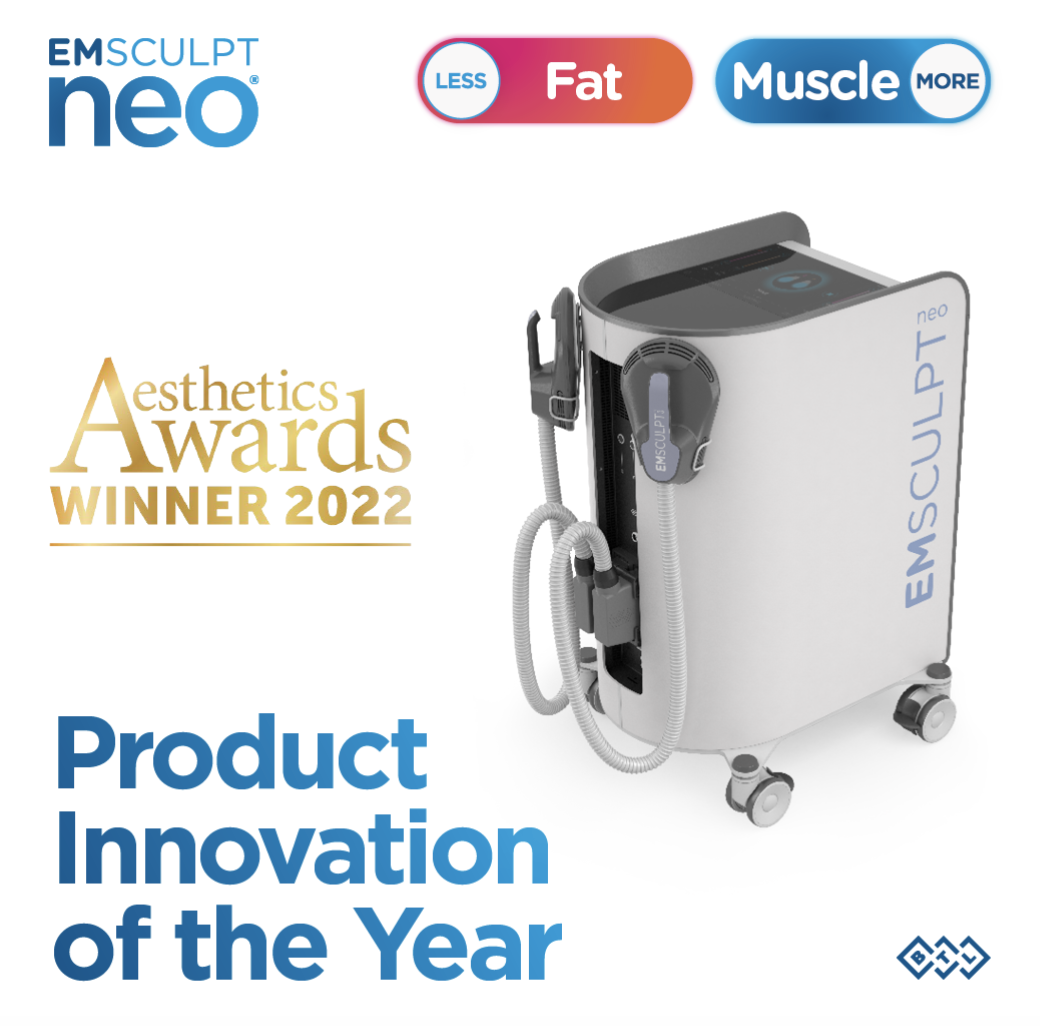 Kick start your skin journey
Our "kick start your skin journey" is designed for new clients and anyone who hasn't had a treatment for a while. This gives us an opportunity to evaluate your concerns and give your skin a boost before heading into more advanced treatments. 
Preparation of the skin is needed before our advanced treatments to ensure you get optimal results.