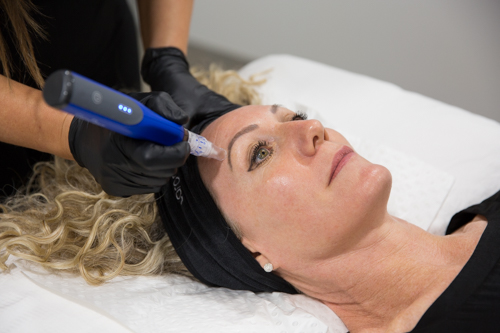 Skin Pen Precision is the only TGA and FDA approved medical skin needling device. By using precise needle penetration and triggering your skin's wound healing response, this treatment will stimulate collagen elastin production and is proven to reduce the appearance of scaring and fine lines and wrinkles.
How does Skin Pen work?
Skin needling creates micro channels within the skin using tiny sterile stainless-steel needles, these needles penetrate the skins surface triggering the wound healing response, stimulating collagen elastin production. This treatment not only helps to reduce scars and wrinkles but has incredible capabilities to help restore integrity and strength to the skin making its suitable for even sensitive skins.
How many treatments do I need?
3 treatments 30 days apart which can continue to show improvements in the skin up to 6 months after your last treatment. (Please note some skin conditions may need more treatment and this is determined in your initial consultation).
How long is the downtime?
First 24 – 48 hours: skin can be pink/red and feels tight and dry. Some blood spotting can also be present depending on the depth of the treatment.
72 hours – Day 14: only use mild/gentle cleansing, hydrating serums physical SPF and moisturizer. During this downtime period it is normal to feel dryer as the skin recovers, and everyone's skin will recover differently.
Does it hurt?
Everyone's pain thresholds are very different and treatment depth will vary from client to client so some discomfort is experienced, however we do offer a topical numbing which can be applied in clinic 45 min prior to your treatment. This topical numbing is included in the treatment price.
Can areas other than the face be treated?
YES! We can treat anywhere on the face and body. This treatment is great for healed surgical scars and also stretch marks. Price on consultation.
What are the costs?
Full Face Skin Pen includes numbing and aftercare for the first 72 hours $350
Add on:
Specialised sheet mask $35
LED light therapy $45
Mesotherapy Ampoule $60
Skin Needling Package
3x Skin Pen treatments with Post Care Kit $760
Skin Pen 105 min $350
Targeted Skin needling customised to your concerns. Treatment includes numbing of the skin pre-treatment and add on post skin treatment kit to take home.
Course of skin pen treatments buy 2 get your 3rd for free